SEE POST –> How to go to Baliuag, Bulacan: https://www.blogsnippets.com/how-to-go-to-baliuag-bulacan-public-transportation-commute
Getting around: Ideally you have to ride in a single motorcycle or bicycle to be able to go around Baliuag, Bulacan as taxis and public jeepneys do not have route within Baliuag. But there is a jeepney service if you go outside Baliuag to other Bulacan provinces like Pulilan, Plaridel, San Rafael, Angat, Bustos, Meycauayan.
If you do not own a private vehicle, you will have to hire a tricycle and pay Php 25.00-50.00 each ride within Baliuag area depends on distance (as of 2019 fare). The tricycle can carry up to three-four passengers.
**COVID-19 YEAR 2022 UPDATE: The tricycle fare becomes Php 40.00-Php 100.00 within Baliuag area. Unfortunately as of this time, there is no other public transportation option aside from the tricycle.
*As of 2023, the minimum becomes P50.00-P60.00.
WHAT TO SEE AND DO BALIUAG – 10 RECOMMENDATIONS
1.) The Baliuag Clock Tower
Most iconic landmark in Baliuag is the clock tower in front of the St. Augustine church located in town center, Brgy. Poblacion, Baliuag. It is surrounded by banks, parks and commercial establishments. It is also close to the market. You can see crowd passing by here on weekends.
2.) St. Augustine Church
This old church was built in year 1790 made of bricks and adobe stones. Since it is established by Augustinians a group under St. Augustine, it usually celebrates the feast during the month of August every year. During lent season specifically on a Good Friday, the church organizes the largest procession in the country having more than 100 religious floats as attraction and tradition.
3.) Street foods and shopping in Poblacion night market
The Poblacion night market food stalls usually open at 3PM in the afternoon up to 9PM in the evening, daily. Locals love to come here everyday. Various kinds of Filipino street foods such as kwek-kwek can be found and some Japanese-Korean food such as corndog on sticks and takoyaki in here. Prices ranging from P7 per bamboo stick for chicken proben or proventriculus (chicken stomach) but Baliuag locals commonly call it as chichao instead of proben, P30 for 4 pieces of takoyaki, refreshing buko juice for P20 per cup and other exotic food choices. Aside from street foods, you can also find different goods in the market such as garments or clothing, bargain shoes, fresh fruits and vegetables, as well as dry and frozen products.
4.) Visit the Baliuag Museum and Library ( under renovation ) and Mariano Ponce Museum
Nearby Poblacion night market is the Baliuag museum and library (previously Old Municipal Town Hall during American colonization). It's an old mansion built in year 1915. Since Baliuag Museum and Library is currently closed, check out Mariano Ponce Museum just few meters walk from it.
5.) Relax and attend events at the Glorietta Park
You can call Baliwag Food Park in Poblacion. Glorietta Park in the town center has a police station so it's relatively safe to walk around. Events are also held here. During BER months (September-December) food tents for kakanin (Filipino sweets) such as Puto Bumbong and Bibingka are available beside the St. Augustine church.
6.) Night life in Baliuag
Head to Baliuag highway and there are KTV bars and restaurants that are opened at night. For KTV rooms, it is highly suggested that you make the reservations first before coming. Our favorite is to eat the unlimited Korean bbq and spend time with family and friends.
7.) See Baliwag Municipal Hall especially on Christmas Season
Baliuag is becoming a city soon from being a municipality. Here in Baliwag Municipal Hall you can transact Government matters in one place from paying taxes, asking help from Public Attorneys Office (PAO) or Social Work (MSWDO), COMELEC, Philhealth, Red Cross and Health Center. Baliwag Municipal Hall turns into attraction during Christmas Season especially at night when you pass by. The lanterns are lighted up in the evening. At daylight, you can sit on the benches under the ancient trees around property. Across the Baliwag Municipal Hall, you can buy your pasalubong/souvenir at Bikoy's delicious chicharron or pork rinds / crackling. Bulacan is the chicharron capital of the Philippines.
8.) Bird watching at Candaba Bird Sanctuary and biking
In early morning during sunrise you can jog or bike around Candaba-Baliuag road. Candaba is the boundary between Baliuag and Pampanga. There is a bird sanctuary here in the rice fields where variety of migratory birds come on a particular season. You might not able to see them every time. It's good if you have a telescope and a long-range camera lens to capture these wonderful birds. It's one of the best attraction in Baliuag.
9.) Try Filipino Lugaw Tokwa Baboy at San Rafael
After bird watching and biking at Candaba area, take a Filipino local breakfast here at Edison's LTB (Lugaw, Tokwa, Baboy) at San Rafael, a municipality close to Baliuag.
10.) Visit Historical Heritage Park at Bustos
Another municipality close to Baliuag is Bustos. Bustos park is a recreational place where you can relax under the trees, a playground for kids, and a mini zoo. Not only that, if you love Philippine history, this is a great place to see historical sculptures.
WHEN IS THE BEST TIME TO VISIT BALIUAG, BULACAN
LENT SEASON EVERY MARCH OR APRIL – Attend the longest parade of the Saints in Carrozas over 100+ life-size display of floats on a Good Friday event (Holy Week Procession)
CHRISTMAS SEASON – Start from the month of September until December native stalls become open at the Baliuag park beside St. Augustine church. A must try Filipino pastries like Puto Bumbong and Bibingka with free Salabat or ginger tea. We, Filipinos celebrate Christmas as early as September. It's always my favorite place to eat and chill during Christmas season. Puto Bumbong and Bibingka price range: Php 30.00 per serving.
In summary, Baliuag is a very peaceful, clean and safe town with so much history. I hope I'm able to help you have the information by sharing this travel guide about Baliuag, Bulacan. Please feel free to share my blog.
Disclaimer:
Due to COVID-19 pandemic, the actual prices, schedules and other information stated in the blog may change and vary. Kindly anticipate inflation and other factors that contributed to price difference. Please do your due diligence to verify with official sources. This blog may contain affiliate links and ads. 
Help us improve this post by letting us know in the comment section.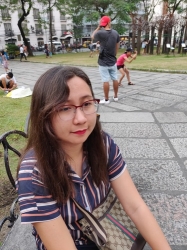 Latest posts by R.Somaredetnom
(see all)