Intro
As ordinary employee, my salary usually goes for the rent, insurance, transportation, meal, allowance for toiletries, grocery, for my family, others just like you. I currently work in a big city where everything is expensive. My income is not that much so traveling seems like a luxury. But having money constraints won't stop me from exploring and living my life to the fullest. Even if I do not have the financial luxury, I still want to have the freedom and time to make it happen by preparing for a travel budget. In this blog I would like to share how I manage to budget my Hong Kong trip for leisure and how it was special. It's special because I saved for it as a gift for my mom's 50th birthday so we can have our passports get stamped together. After all, she has sacrificed a lot and she deserves an international travel treat. Maybe soon in the future we can travel abroad as a family together with my younger siblings.
Hong Kong is always a good start for Filipinos who are first timers to travel internationally. It's been popular for Filipino tourists not just Filipino workers. Hong Kong offers free visa for Philippine passport holders up to 14 days stay, cheap flights and affordable tour packages even though Hong Kong is indeed an expensive destination. You may also notice that some Hong Kong landmark names and train stations are based in English. It is because Hong Kong used to be colonized by the British empire in year 1800s.
Travel Guide and Budget 
A.) Planning stage
1: Secure your passport (at least valid for more than 6 months at the date of travel)
2: Prepare a minimum budget at least P1,500/day per person plus roundtrip airfare, travel tax, accommodation and budget for amusement park and show tickets (optional)
3: Book flight early (3-6 months prior to save on airline price or as soon as you find a seat sale)
4: Find a convenient accommodation. 
5: Create your itinerary (list of attractions to visit)
6: Exchange money to Hong Kong currency (HKD). 1 HKD = P7.17 as of December 2, 2022
7: Pack the travel essentials. Pack light.
8: Double check on the updated pandemic restrictions 
B) Plane Ticket
You can book direct flights from Manila (2.15 hours per way) or from Cebu to Hong Kong (2.45 hours travel time per way). As of 2022, a rush roundtrip ticket costs P9,000/USD 155 from Manila-Hong Kong-Manila and P13,000/USD 225 from Cebu-Hong Kong-Cebu on economy seating with a budget local airline such as Cebu Pacific.
During off-season, the average roundtrip cost is around P7,000/USD120. A promo seat sale for a roundtrip ticket would cost only P4,000/USD68 more or less. The month of July – September is a good time to book cheap flights.
Consider adding domestic fares in your budget especially if you are residing far from Manila and Cebu airport.
We got our promo sale ticket Manila-Hong Kong round-trip ticket for P4,347.17 or USD 87.00 per person.
ON THE DAY OF THE TRAVEL: Pay for travel tax at the airport before check-in at the airline counter which is 1,620 pesos per person. Once you check-in at the counter, bring your boarding pass and departure card, head towards the international flights boarding area to pass through immigration officer and security check. 
Piece of advice: You need to be at the airport at least 4 hours before your departure time to give enough time for long queues and possible delays or changes. Of course, you have to secure a budget for your airport transportation and possible food expenses. There are food stalls and shops inside the airport.
At the Immigration area, just confidently smile and present your passport, roundtrip ticket & boarding pass.  After that, they may ask for hotel booking confirmation and itinerary for activities which should suffice the trip. In case they ask for additional documents (they tend to be strict especially for first time travelers, solo travelers), prepare for your company ID or Certificate of Employment if you are employed and Business proof, if you are an entrepreneur, school ID if you are a student. There are instances that they will ask how much money do you have to fund for the trip. Just answer them honestly and make sure that you can really fund your travel for the sole purpose of leisure.
Traveler tip: Always have an organizer with you containing the travel docs such as passport, ID, ticket, travel itinerary, boarding pass, and hotel voucher because you will have to present these at the Immigration area when asked. By being organized, it will save you time.
If you travel March-September, it's definitely hot in Hong Kong. Hong Kong does not get snow. However, it's cooler during December. Wear comfortable clothing and shoes for walking around.
C. Accommodation
During our Hong Kong trip we stayed in a 3 star hotel located in Prince Edward, Kowloon for 2 nights. We chose this for having a great location, being close to the night markets, MTR train station and MOKO mall. 
Though accommodation would depend on your choice of amenities, location and budget, always check out the property in advance as it gets fully booked especially if it's the affordable and popular ones. Hong Kong is a known destination for tourists from all over the world.
These are the price range per night if you stay within the center of Hong Kong. *See below
Accommodation average budget prices range from P700.00/USD 12 (Solo person in a shared-dorm) – P2,000.00/USD 35 pesos per night (Private room for 2 persons).
The cheapest you can probably find in Hong Kong for a private room with private bathroom costs P1,000/USD 18 per night. A luxury stay would cost at least P10,000/USD 182 per night.
Keep in mind that some rooms in Hong Kong tend to be really small in terms of space. We got a 85 square feet room = 7 sqm with amenities (private bathroom – hair dryer, shower w/heater, air-conditioning, cable TV, free wifi, phone, towels and toiletries). If you have phobia being confined in a very small space, I suggest that you research well about the property.
Also be careful to read the terms and conditions. Some hotels may have additional charges such as cleaning fee and or if you need an adapter (for charging). Good thing, it's already inclusive in our booking price. If you book online some of them offer flexible payment options like free cancellation, using credit card or pay directly at the property upon your stay.
Please notify your bank in the Philippines that you plan in doing international transactions using your card prior travel date before using your credit card or debit card to avoid inconvenience when you arrive in other country. This is because banks may block your card while you're in overseas thinking the transaction might be fraud.
There are plenty of ATM machines for international debit card in Hong Kong where you can withdraw cash. 
Initial cost we incurred for this trip:
Manila-Hong Kong Airfare roundtrip: P4,347.17 per person (USD 75)
Philippine Travel Tax: P1,620.00 per person (USD 28)
Hotel in Kowloon, Hong Kong: P3,400 for 2 nights (USD 58)
Price per night is 1,700.00 already for 2 persons  (USD 29) *We booked a private room with own bathroom
INITIAL BUDGET: P7,667.17 per person (USD 132)
*Exhange rate used 1 USD = P58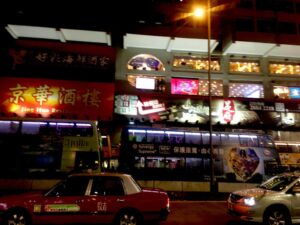 D. Transportation
As a highly developed country, getting around with transportation in Hong Kong is very comprehensive and efficient. You can reach your destination with taxi, double-decker bus, mini-bus, ferry, tram and train (known as MTR – Mass Transit Railway). It is safe to ride the public transportation in Hong Kong. Actually you can go to other Hong Kong islands and cross-countries like Macau and China directly from Hong Kong by land or ferry travel.
Taxis are very expensive that can cost P170.00 flag rate in first 2 kilometers plus P60.00/km per succeeding kilometer.
Walking will save you money to get around. However, train via MTR will be the practical way to go to places in Hong Kong. Minimum of 3 HKD-7HKD or P20.00-P50.00 per trip. Make sure to purchase the "Octopus Card" at any MTR station, 7-eleven stores, airport arrival hall for HKD 39/P280 (no stored value or load yet) plus HKD 111/P796 initial stored value. Total of HKD 150/P1,076. 
What I like about Hong Kong is that they already have train station from inside the airport going to Kowloon district where our hotel was located so it was easy to navigate. We did not need to go outside the airport to find a taxi. 
Photo: My mom at Hong Kong International Airport (HKIA). It's so huge! You'll be surprised that you will have to ride a train within the boarding gates. It has about 90 boarding gates. Hong Kong international airport is a 5-star airport
Budget Itinerary for 3 days and 2 nights in Hong Kong
1.) Ladies Market
Go to Ladies Market in Mong Kok, Kowloon in Hong Kong. A huge market popular with locals and tourists known for shopping, you can find almost everything in the Ladies Market from clothing, shoes, bags, wallets, jewelries, accessories, gadgets, household goods, toys, other items that are great for souvenir, gift items and street foods. Bargain with the seller to get the cheapest price. Take extra precaution as they tend to overcharge tourists in selling fake luxury branded items. Ladies Market is usually crowded and open daily from early noon time at 11:00 AM to evenings up to 10:00 PM. Free to walk around.
2.) Victoria Harbour (Victoria Bay)
As world's international sea port and air port hub, Hong Kong is one of the  largest and busiest harbour in the world. Victoria Harbour is popular for stunning panoramic views especially if you go to the Victoria peak for overlooking view – highest mountain in Hong Kong. Watch out for 10-minute Symphony of the Lights show every 8:00 pm, daily to witness light and sound show coming from the skyscrapers across Victoria Harbour. Located in Tsim Sha Tsui area, it is free to visit in this sightseeing.
3.) Avenue of the Stars 
Within the Victoria Harbour you will find the Avenue of the Stars (just like the Hollywood's Walk of Fame), it showcases the big celebrities of Hong Kong's film industry. You can see the names and hand prints of these icons at Avenue of the Stars. There is no admission cost coming here. It is literally free to the public. However, if there's any special show coming up, you will need to purchase ticket.
4.) Mong Kok Flower Market Road
The oldest flower market in Hong Kong which is the Mong Kok Flower Market Road, mostly crowded during weekends, special occasions and holidays. If you are a flower and plant enthusiast, you must visit this place. You can find hundreds of shops selling plants, flower bouquets, bonsai, and orchids. We bought some flower seeds from the flower market with hopes of planting and growing them back home. Just like most markets do not have entrance fee, of course. Close to the market is the Mong Kok stadium.

5.) Yuen Po Street Bird Garden 
As you walk ahead from the flower market, you will find Yuen Po Street Bird Garden. There's plenty of colorful birds (and other exotic kinds too) and bird supplies you can find in here. Birds are popular pets and hobby among the locals in Hong Kong. Open from 7:00 AM- 8:00 PM daily, free entrance.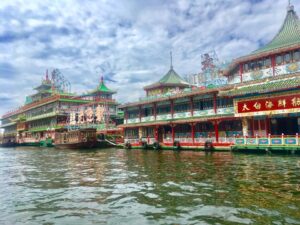 6.) Aberdeen Fishing Village
Another wonderful attraction to visit in Hong kong is Aberdeen Fishing Village. Come here by riding in a Sampan boat (A Chinese-Malay wooden boat) for 30-minute sightseeing of traditional fishing boats that are houses by the fishermen and luxury yachts owned by the wealthy people in Hong Kong. You can dine at a floating restaurant and seafood markets at the ferry pick-up point.
The cost for the Sampan ride is HKD 50/P350 per person (30 minute ride without food). Alternatively, you can book a relaxing cruise from Victoria Harbour passing Aberdeen Fishing Village with food and drinks for 300 HKD/P2,100 per person (2.5 hours ride)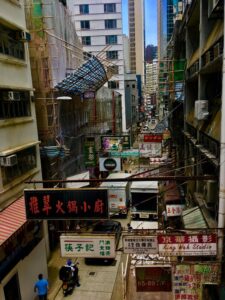 7.) Old Town Central 
It is free to visit the Old Town Central for authentic Hong Kong experience. This is Hong Kong's oldest neighbourhood. You will notice the mixed modern and ancient vibe when you visit Central. If you are a food lover, this place offers wides choices of Hong Kong traditional restaurants. This place is rich in history and culture of old and modern Hong Kong. Pass by to the Central mid-levels escalators and walkway as it is the longest covered walkway system in the whole world stretching almost 1 kilometer. Admission: free

8.) Hong Kong Jewellery
700 meter from Avenue of the Stars, you can reach the most popular Hong Kong Jewellery shop where famous celebrities in the world have visited (one example is Manny Pacquiao – world's top boxer). They sell very good quality of diamonds, minerals, crystals, stones, fengshui charms, and other jewelries in this shop.  Admission: Free


9.) Temple Street Night Market
One of the best things to do in Hong Kong is to eat street foods. Temple Street Night Market starts to open at 2:00 pm – 11:00 pm, daily. We went there in the afternoon and in the evening. However, by 10:00 pm, most stalls were already closed. The best time to come here is between 5:00 pm – 9:00pm. Seafoods are available like fishes, shellfish, crabs, squid, lobsters, crab. You can eat variety of noodles,  dumplings and fish balls. If you are into exotic experience, roasted small birds are also available. A couple of meters away you will find the Sneakers market called Fa Yuen street. Admission: free
*As of November 2022, few dine-in bars and restaurants are allowed following maximum number of persons per table due to COVID-19 restrictions. You will need to get a negative COVID-19 result before entering for dine-in. To avoid hassle, you can take away food instead and eat to your hotel


10.) Li Yuen Street market 
Located in hidden and narrow alleys of Central, Hong Kong, Li Yuen Street Market is a great place for bargain shopping mostly clothing, bags, purses, accessories and food items as souvenir. This market may be smaller than Ladies Night Market and Temple Street Night Market but it's a colorful and interesting market. I've met some overseas Filipino workers as sales lady in this market. Admission: free
Other popular attractions are Hong Kong Disneyland, Ocean Park, Victoria Peak, Ngong Ping 360 cable car, The Peak Tram, Lantau Island, Madam Tussauds and many more… 
RECAP on the cost we incurred for Hong Kong trip:
*Exchange rate sample: 1 USD = P58
Manila-Hong Kong Airfare roundtrip: P4,347.17 per person (USD 75)
Philippine Travel Tax: P1,620.00 per person (USD 28)
Hotel in Kowloon, Hong Kong: P1,700 for 2 nights per person (USD 29) **split by 2, for example
Transportation: P1,076 per person using Octopus card for train rides (MTR) (USD 19)
Sampan boat ride: P350 per person (USD 6)
Food budget for 3 days: P300-P500/meal per person (USD 5-9/meal) X 8 meals = P4,000/USD 69
Souvenir: P2,000/USD 35
Total budget: P15,093.17 per person
COVID-19 UPDATE:
Travel ban has been lifted to Filipino tourists as of 2nd quarter of year 2022. You must be fully vaccinated. 
However, you will need to take COVID-19 Rapid Antigen Test (RAT) testing and have a negative result before flying. You can administer this by yourself.
As of November 2022, quarantine is no longer required for international arrivals, Hong Kong government is  implementing the "0+3" instead which means health monitoring for 3 days before you can enter to public indoor venues such as bars, restaurants, cinemas, gym. On the third day after your arrival, and you have tested negative in consecutive days, you can now enter these said establishments and have your health declaration scanned via their app called Leave Home Safe HK.
However, you are already allowed to visit the main tourist attractions, outdoor areas, go to shops, malls, public transport, supermarkets, restaurants for take-away only from the 0 day you arrived where the scanning of Leave Home Safe app HK is not required.
At Hong Kong airport Arrival, the officers will arrange a swab test or RT-PCR to all arriving passengers. Aside from this you must do a Rapid Antigen Test – RAT testing daily by yourself until the 7th day after your arrival and need the results to be uploaded in Hong Kong Government website. 
Disclaimer:
Due to COVID-19 pandemic and unpredictable global economy situation, the updated prices, schedules and other information stated in the blog may change and vary. Kindly anticipate inflation and other factors that contributed to price difference. Please do your due diligence to verify with official sources. This blog is only shared based on my personal knowledge and actual experience. Photos may be taken during pre-pandemic.
This blog may contain affiliate links and ads. 
Help us improve this post by letting us know in the comment section.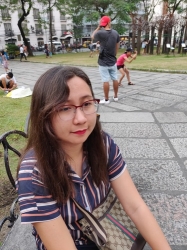 Latest posts by Yang Herrera
(see all)