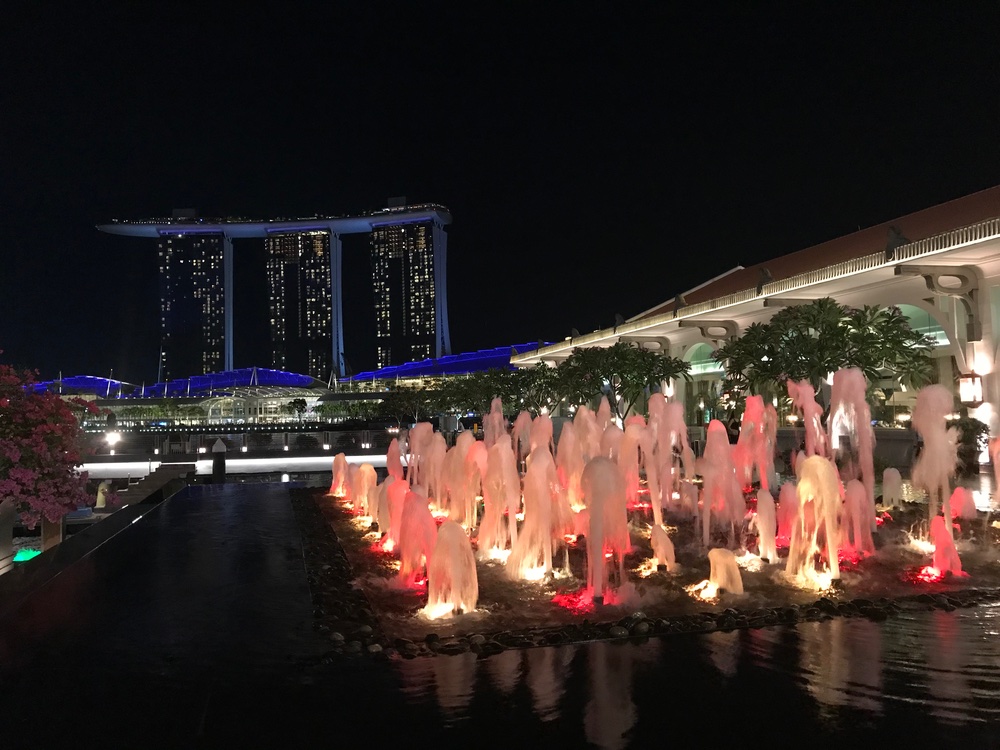 I went to Singapore not as a Crazy Rich Asian but a little crazy and definitely a frugal one. Haha. As someone living from a third world country, Singapore can be very expensive because it is a developed first world country. However, I was able to travel alone on a small budget in Singapore. After all, I always wanted to immerse myself to other culture and appreciate its diverse food and scenery.  For example, I booked my accommodation with Joyfor Backpacker Hostel in Kallang for  as low as SGD 44.46 that's already 4 nights.
I have discovered a list of free and cheap things to do in Singapore and I would like to share them with you so you can make most of your stay in 4 days.
DAY 1 IN SINGAPORE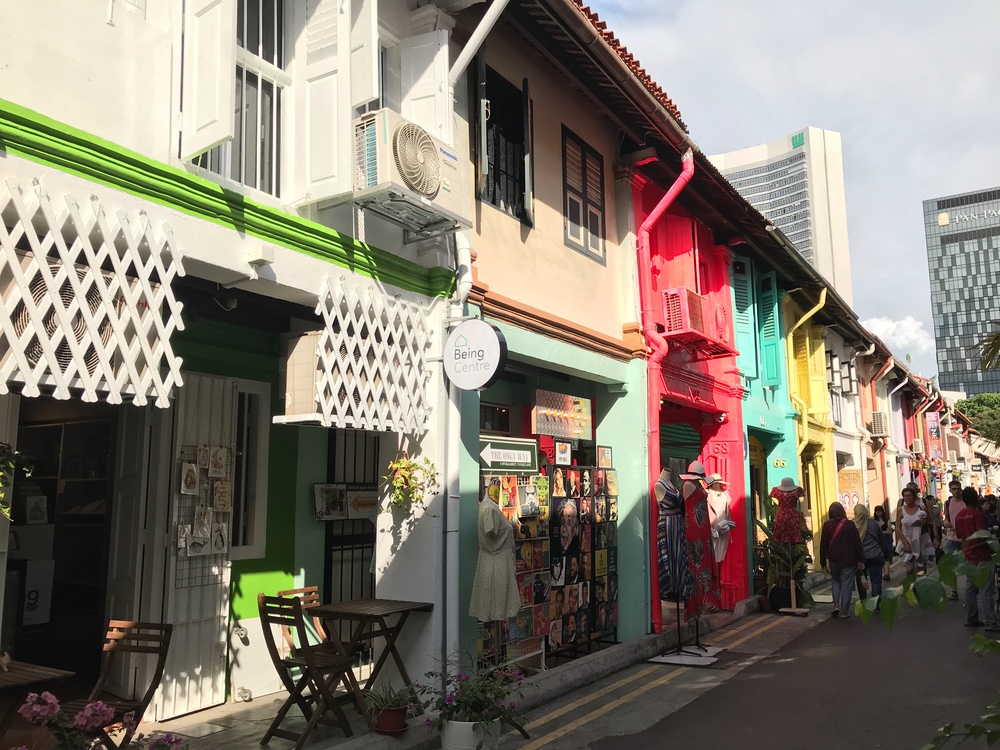 1.) VISIT HAJI LANE 
After I checked in and rested from my previous trip I went to Kallang MRT station the nearest MRT in my hostel and purchased EZ link card. It was a humid day when I came to Haji Lane located in Kampong Glam neighbourhood. The nearest MRT is Bugis station and you have to walk a few meters to get to the artistic side of downtown Singapore – The HAJI LANE and going here is totally FREE.
The wall art is just amazing.
2.) VISIT KAMPONG GLAM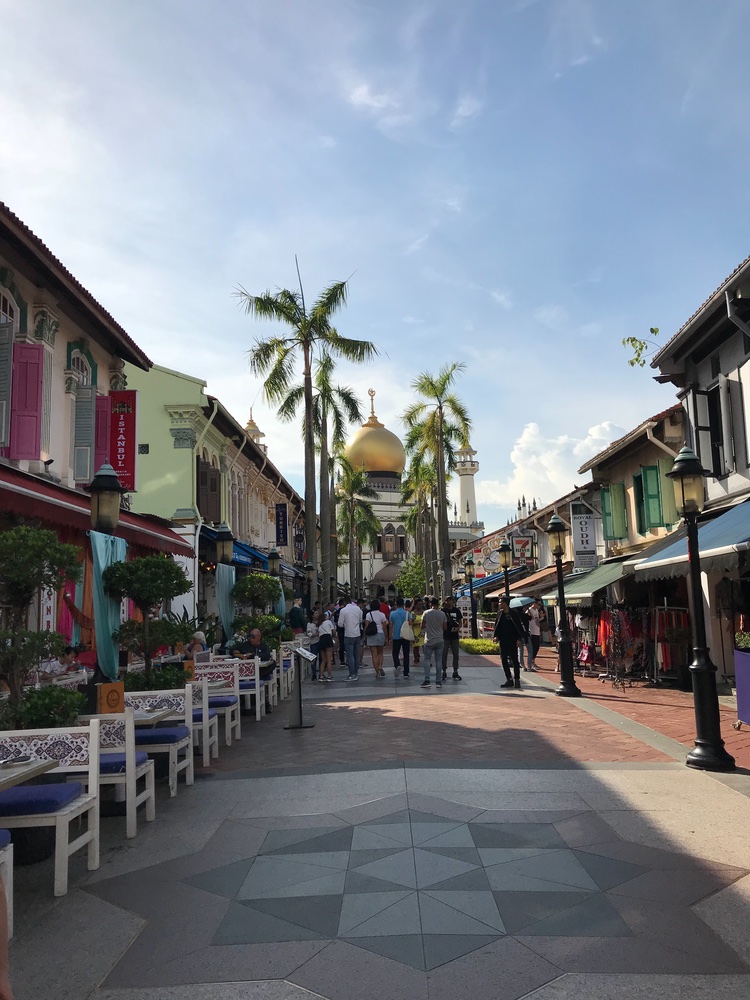 Another FREE thing to do is to visit Kampong Glam. Located in Arab Street, I came here after visiting HAJI LANE. The name comes from the Malay language where kampung means 'village' and 'gelam' was a type of tree known as the Paperbark tree. It's a Muslim area and you can find unique traditional Arab textile and carpet shops around cool cafes and grafitti-painted walls.
3.) MASJID SULTAN
Bugis area is one of my favorites in Singapore. Although it's usually crowded during the afternoons and evenings, the vibe is just fantastic so you must not miss coming in this area.
Masjid Sultan is an impressive mosque located in Kampong Glam. Taking a quick "insta-worthy" photo of the iconic mosque is definitely worth it.
4.) LAU PA SAT FESTIVAL MARKET 
After my free tour in Bugis area, I headed to Bugis Junction mall and ride the MRT going to Raffles Station. A few walks from Raffles Station Exit I, you can find the old hawker centre Lau Pa Sat known as Telok Ayer Market. Entrance is free and with over 200 food stalls there are plenty of cheap food and beverages to choose from including beer. Aside from the local cuisines in Lau Pa Sat, you can also stalls serving Korean, Japanese, Vietnamese, and Filipino selections. I was surprised when I saw the Adobo connection food stall because I loved eating there back in the Philippines.
5.) WATCH THE LIGHT SHOW FROM THE MERLION PARK
One of the memorable activity I made was sitting at the Merlion Park waiting for the 7:00 PM light show from the other side. Coming to Merlion Park is FREE. It walked 900 meters from Lau Pa Sat to the Merlion Park. No one should miss coming to Merlion when you visit Singapore and do the mandatory selfie. Haha. But expect the crowds in the photo background.
DAY 2 IN SINGAPORE
6.) VISIT CHINA TOWN 
I came here to have breakfast in world's cheapest Michelin awarded Hawker Chan first original stall in China Town. Expect the queue of tourists mostly. The marinade chicken has an intense savoury flavour, with a bit of sweetness and spice powder flavour to it.
I know there are China Towns in every big city but take time to scroll China Town in Singapore. The unique exterior of souvenir shops and restaurants are extraordinary.
7.) SRI MARIAMMAN TEMPLE 
The Sri Mariamman Temple is Singapore's oldest Hindu temple. One of Singapore's attraction because of its colorful design.
You need to remove your shoes before entering the temple and if you have a DSLR camera you need to purchase a permit to take photographs. I did not go inside anymore because that time it was so crowded.
8) HAW PAR VILLA
This is a themed-park which is filled with Chinese mythology, history and tradition dioramas. Visiting this unique place about Buddhist is absolutely free. Located next to Haw Par Villa MRT station you can find this attraction. It is open daily from 9:00 am – 7:00 pm. When I went there I was really amazed of the art and slightly terrified with the images I had seen.
Address: 262 Pasir Panjang Road, Singapore 
9.) BOAT QUAY SINGAPORE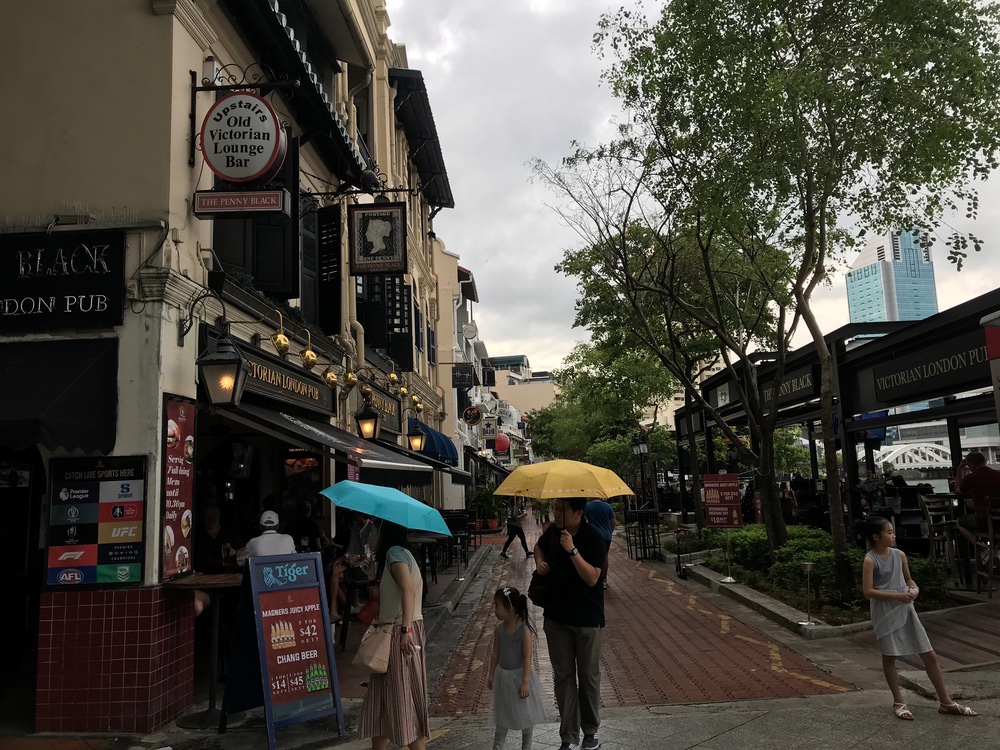 I spent my time chilling at the park in this area just watching the Singapore river and some boats. The location is a historical quay (old port) in Singapore. The vibe here is great because you're surrounded with restaurants and pubs – a popular place for nightlife. Coming to this area is free. You just have to try out the foods and beers at a cheap price you can find.
DAY

3

IN

SINGAPORE
10.) HAVE TRADITIONAL SINGAPORE BREAKFAST (YA KUN KAYA TOAST) 
I started my day by having Singaporean-style breakfast meal in Ya Kun Kaya Toast in Bugis before heading out to my next itinerary. You must try and do not miss this one in Singapore. The eggs and toast are perfect matched with hot chocolate drink. They tasted awesome. This dish is just impressive. 
11.) EXPLORE SINGAPORE ZOO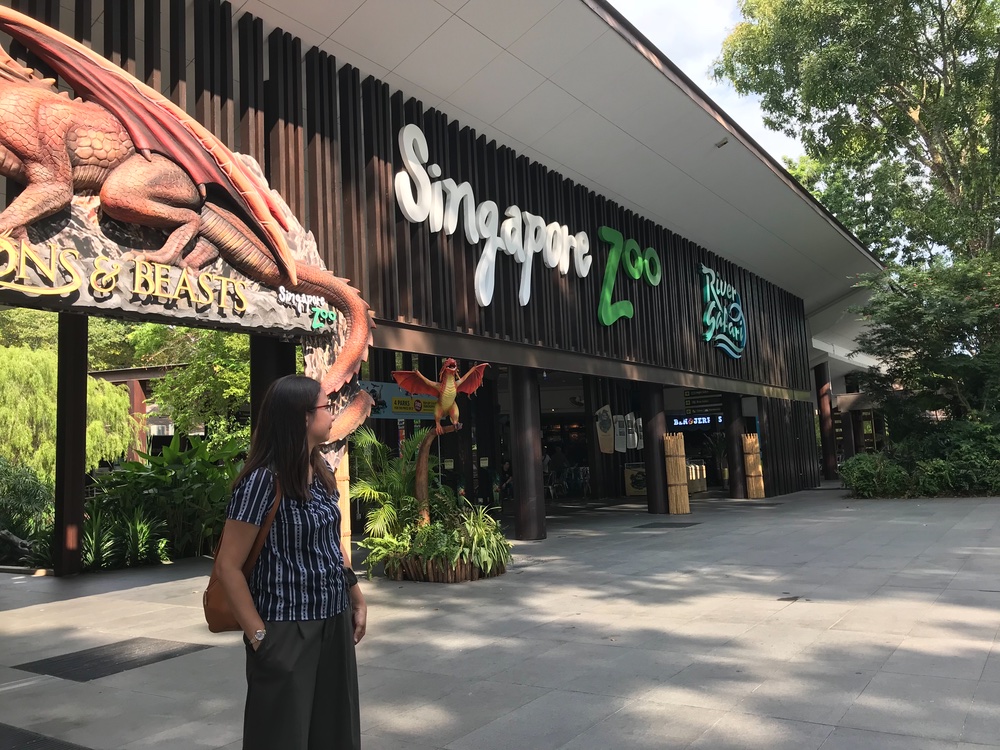 I came here through the MRT. It is open daily. I purchased my entry ticket through KLOOK App online so I can avoid the line if ever. I was able to see penguins, zebras, elephants, kangaroo and other animals here that I can´t find back in my country. Bring your tumbler for water and some food. Also bring an umbrella and wear comfy shoes for a long hike though there is a shuttle but it only caters limited pick` up and drop off points. Food inside is quite pricey.
12.) GARDENS BY THE BAY
Riding the MRT is very convenient. I arrived at Bayfront MRT station and took a short walk to Gardens by the bay. I came here to watch spectacular giant trees show at Gardens by the bay for their light and sound show every night at 7:45 PM and 8:45 PM. Since I enjoyed it very much I watched for full two-hours and just lay down on the ground by myself to witness the amazing effects at Gardens by the Bay. Expect the crowds so you'll have to find a good spot where you can just relax and watch the show. Coming here is free of charge.
13.) DINNER AT MAKANSUTRA GLUTTONS BAY 
Ended my day with some delicious food at the Makasuntra Gluttons bay hawker stall market as you can chill out to a beautiful Marina Bay view. Located in the Marina bay district, at the Esplanade Opera house, you will see the exciting vibe of assorted local food stalls via Esplanade MRT station. 
DAY 4 IN SINGAPORE
14.) FLOWER DOME
Singapore is a pretty humid place and most of the time you'll get all sweaty outside. In my last day stay in Singapore, I planned on visiting an air-conditioned indoor environment like Flower Dome and just relax. This conservatory in Gardens by the bay will require you a ticket for SGD 17.00 per person that you can purchase in their office. It is a collection of exotic plants and flowers from various countries just bloom in a perpetual spring season. It is the largest glass greenhouse in the world. 
Address: 18 Marina Gardens Drive Gardens by the Bay Singapore
15.) CLOUD FOREST
Another air-conditioned indoor attraction just next to Flower Dome is Cloud Forest with amazing breath-taking waterfall inside the conservatory. It is a 35-meter tall mountain covered with different species of plants and flowers. A must see natural-made garden by paying the ticket of SGD 20.00 per person to visualize its beauty. It was an amazing experience for me and an enjoyable one. You should definitely come. 
 16.) JEWEL AT CHANGI AIRPORT
The Singapore airport is already an attraction itself. You are free to come here even if you are not a passenger. It is not your ordinary connecting airport to other destinations for a layover. Singapore is called Changi and is one of a kind. There are 24/7 attractions inside that the waiting time for your plane is not enough to stroll around. Consider as the world's best airport, there is an indoor waterfall, thousands of trees and garden, where you can find entertainment, mixed restaurants and shopping malls. You can even have a comfortable sleep in the airport with Sleeping Pods at the Changi Lounge. 
Attractions within Changi airport:
THE JEWEL AREA – Art installations, Trampoline, Canopy Bridge and Park, Changi Studio, Discovery Slides, Foggy bowls, Hedge and Mirror Maze, Petal Garden, Forest Valley and Rain Vortex
TERMINAL 1 – You can find the Arrival Garden and Kinetic Rain
TERMINAL 2 – Kinetic Artwork
TERMINAL 3 – Giant Propeller, Giant Seed Pods, Tallest Slide in a world's airport
TERMINAL 4 (New) – Bird sculptures, Trishaw, Singapore Murals
Also did travel in Singapore neighboring countries which I had an amazing experience. Check the link below:
SOLO TRAVELING IN KUALA LUMPUR MALAYSIA ITINERARY IN 4 DAYS
https://blogsnippets.com/solo-traveling-in-kuala-lumpur-malaysia-itinerary-in-4-days/
TRAVEL GUIDE TO MELAKA MALAYSIA OVERNIGHT ITINERARY
VISIT THE PHILIPPINES 
https://blogsnippets.com/philippines-destinations/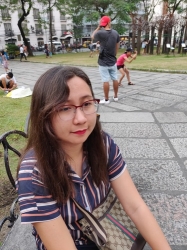 Latest posts by R.Somaredetnom
(see all)