Welcome to my blog. I have been writing my epic travel stories but this is the first time I've posted a blog about my hometown. In this post I'd like to share the "chill" itinerary for your short stay in Davao. Let's say it's a 3 day stay in Davao City where you don't need to be confused and to exhaust yourself in going for an adventure. Hope my information helps. Please feel free to comment your suggestions and reaction. I would love to read them. Thanks in advance.
Disclaimer: Due to COVID-19 pandemic and unpredictable global economy situation, the actual prices, schedules and other information stated in the blog may change and vary. Kindly anticipate inflation and other factors that contributed to price difference. Please do your due diligence to verify with official sources. This blog is only shared based on my personal knowledge and actual experience. This blog may contain affiliate links and ads.  Help us improve this post by letting us know in the comment section. 
I would like to thank you for reading my blog post. If you like it, please also check-out below my other blog posts for helpful and informative content:
OVERVIEW ABOUT DAVAO
Davao city "The land of Durian, the fruit" is the central and industry hub of Mindanao island. It's where you can find the highest mountain in the Philippines – the Mt. Apo and hometown of the present Philippine President Rodrigo Duterte.
AIR FARE PRICES: From Manila, round trip ticket starts at Php 3,000.00-Php 5,000.00 for the usual ticket promo. Or watch out for PISO promo fares, if you are lucky to book a roundtrip for less than Php 1,000.00. Airlines that call Davao's Francisco Bangoy Airport are Philippine Airlines, Cebu Pacific and Air Asia.
TOP TO-DO LIST AND UNDERRATED ATTRACTIONS TO VISIT IN DAVAO CITY
1.) HAGIMIT FALLS
You can find this natural falls in Penaplata, Samal Island, a 10-minute boat ride from Davao city and less than 30 minute ride from Penaplata center to the final location. People love to take camping and overnight cottage in here. It does not cost that much to experience this paradise. There is no entrance fee to the falls. You will only need to pay Php 20.00 (USD 0.36 cents) for the maintenance fee of the place. Open Cottages can be used for the entire day for Php 200-350 (USD 3-6) and Php 600.00 for overnight stay.
How to get to Hagimit Falls: You can take the ferry or locally called as "barge". If you do not have any vehicle with you, you just go ahead and pay Php 10.00 as passenger fee from Sasa Wharf (Sasa Ferry Terminal), Davao city to Babak Port, Samal Island. Since you are doing public transportation, you can ride a "habal-habal" local term for motorbike for Php 100.00 (per ride, if you are alone) from Babak Port going to Hagimit Falls. Each motorbike can fit 2 persons and you can split the price in half too. Meanwhile, there will be Php 60.00 for motorcycles and Php 200 for private cars.
2.) ISLA RETA, TALICUD ISLAND
The best beach I've gone so far! Being there is heaven on earth, I must say. Another beautiful beach, Isla reta is perfect for a weekend get-away. It's located in Talicud Island, still part of Samal Island. An hour away from Davao city, surely, it can take away the stress from your work and normal routine. This resort is ideal for relaxation with white sand and clear waters that you would not want to leave the beach and go back to city again. You can do camping, snorkeling, sun-bathing, diving, grilling, anything that you like on a holiday. The entrance fee in the resort will cost Php 100.00 (USD 1.8) for day tour or Php 200.00 (USD 3.6) for overnight stay. The accommodation will vary from Php 100.00 (USD 1.8) for tent or Php 900.00 (USD 16.00) for a private room that can fit 2-5 people (Non-airconditioned)
How to get to Isla Reta in Talicud island: In Davao city downtown, go to Sta. Ana wharf beside the Magsaysay Park to get on board in a ferry boat going directly to Isla Reta Resort in Talicud Island. The fare is Php 80.00 per way per person.
3.) D'LEONOR ADVENTURE PARK
This is an amusement park in Davao. Over 40 exciting activities are available in D' Leonor Inland resort and adventure park where you can enjoy the popular Wave pool. You can stay in the hotel for overnight with the affordable accommodation rates or you can enjoy the day tour for only Php 50.00 as entrance fee. The resort can also hold venue for parties, company team building, or events, great for spending quality time with family and friends. Note that rates vary per activity.
How to get to D' Leonor Adventure Park: Located in Brgy. Communal, Cabantian, a 20-minute ride from downtown Davao City, if you want to save money and willing to wait for a public transportation, you can get into a jeepney that says Communal and pay the fare of Php 12.00 then ride a tricycle for only Php 10.00 per peson. However, the most convenient way is to ride a taxi or private car going here. It's also near the airport.
4.) PEOPLE'S PARK IN DAVAO CITY
A massive park built in late 2000's where you can see the diverse culture of Davao through the sculptures, art and heritage of different tribes living as one created by the famous Mindanao artist Kublai Millan. This place is your sanctuary within the city where you can just sit and have chat with your friends after a long day.
How to get to People's Park: You can walk if you are staying nearby within downtown area or you have the option to ride a jeepney for Php 10.00 or metered rate taxi. Most jeepneys that go to downtown can directly take you there because it's only located within Ponciano/Ilustre street.
5.) ROXAS NIGHT MARKET
It's Davaowenos favorite place in the city. It's a fun place for the youngsters, like students and workers, a wonderful place for dating couples and for the whole family, and definitely recommended for the tourists. You can meet your friends and enjoy a variety of street food there. It's only open from 5:00 PM – 1:00 AM and jam-packed with crowd on weekends. It's a safe night market where there is always police presence. Food price starts at Php 5.00. You can taste and enjoy the grilled seafood, pork and chicken bbq, fresh fruit juices, durian, kwek-kwek, dynamite, butchi in different flavors, the popular Mang Danny's dirty ice cream, etc. Ukay-ukay or thrift shopping is also available from jackets, shirts, pants, shoes, bags at a very affordable price.
How to go to Roxas Night Market: Simply ride a jeepney going to Roxas avenue if you are coming from the southbound or ride any jeep that goes toward Ateneo de Davao University. The Night Market is just in front of the university Roxas gate and Aldevinco shopping center. Minimum jeepney fare is Php 10.00.
5.) BALIK BUKID RESTAURANT
A restaurant with a twist. It can be a Vegan option in Davao city since they're only serving organic fresh vegetables and meat coming directly from the farm. It promotes healthy living. The food price is also reasonable around Php150-Php300 for sharing. The interior of the restaurant is refreshing and cultural at the same time. You can play board games and sungka while waiting for your order.
How to get to Balik Bukid Restaurant: Ride a Toril bound jeepney from Roxas Avenue/market and drop off to Sandawa along Quimpo Blvd just in between Yellow Fin and Marina Tuna restaurant.
6.) JACKS RIDGE
Now if you are looking for a chill vibe with a panoramic view of Davao city, come to Jack's Ridge to discover more of Mindanaoan culture and history during the World War II Japanese invasion. The place is great for their swimming pool, restaurant and live band music. They also have a coffee shop and a piano KTV bar. An event's place perfect for any occasion. I suggest to come here at sunset so you can capture a memorable view.
How to get to Jack's ridge restaurant: Since it's located in an uphill area, taking a taxi or private car is recommended especially at night or you can opt for a tricycle during daytime.
7.) PONCE SUITES BY KUBLAI
It's an art gallery and hotel at the same time owned by artist Kublai. It is located in the downtown area near the malls of Victoria Plaza, Abreeza and Gaisano Mall. It's a four-storey gallery. It has a rooftop bar and cafe where you can hang-out with your friends and chill if you are staying overnight. Rooms starts at Php 750.00. You can also visit the place on a day tour which only cost Php 20.00 per person. His interesting paintings and masterpiece will inspire you.
How to get to Ponce Suites by Kublai: You can ride any jeepney that goes to Victoria Plaza (Victoria mall) and make your stop at the pedestrian overpass. You can walk towards RCBC side and make a straight ahead along Surveyor Street. Just about 600-700 meters uphill walk, you will find Sitio Babak and make a left turn, you should be able to find Ponce Suites by Kublai's sculpture at the entrance.
8.) LON WA BUDDHIST TEMPLE
We are in an Asian country so temples are must-see attraction. In Davao where culture is so much diverse with Muslims, Lumad and different Mindanaoan tribes, Cebuano, Tagalog, Indian, and Korean, the Chinese people still preserve its Buddhist religion. Admission is FREE and the Temple is open to the public from 7:30 AM to 4:30 PM
How to get to Lon Wa Buddhist Temple: Ride the Route No. 4 jeepney or Route 10 going to Cabaguio Avenue. Fare is minimum Php 8.00.
9.) LYNDON'S WORST RIBS & AWFUL CHICKEN
Want to try out the best ribs and chicken? Visit Lyndon's – the original one in Roxas Avenue. Lyndon's will satisfy your hungry tummy. It's completely the opposite of worst and awful. They serve delicious food in Lyndon's at a reasonable price.
How to get there: You can just walk along the Roxas Avenue/Roxas night market. You will easily locate the restaurant by its large signage.
10.) HUCKLEBERRY SOUTHERN KITCHEN & BAR FOR CHILL NIGHT LIFE

My favorite cozy place in the heart of the city. Located in Anda St. at the lower level of Tola Restaurant (formerly Claude's Cafe & Restaurant). I remember the first time coming here with my family (mom, bro, sis and grandma) feeling intimidated because we thought eating there is very expensive but it's really not that fancy. In fact, they all loved the cozy ambiance especially the food. Their food is good for sharing and I must say has value for money. Food prices range from Php 200-Php 400.00. Appetizers, soup, and desserts range from Php 80-160. Beer starts at Php 40.00. So I recommend this place where you can have intimate conversations with your family and friends. I would love to come back whenever I'm in the city.
How to get to Huckleberry Southern Kitchen & Bar: Located in downtown Davao city, you can ride a jeepney that goes to Puan/Ulas or Sasa. Make sure that you ask the jeepney driver if it goes to Anda street. Alternatively, you can just walk from San Pedro church or People's park as the closest landmark.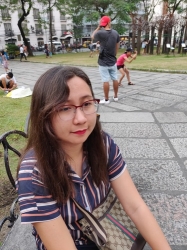 Latest posts by Yang Herrera
(see all)