KUALA LUMPUR GUIDE & ITINERARY
Another country popular for backpacking is Malaysia, and it's a 3.5 hour travel from my home country Philippines. The idea of traveling as a solo female for the first time is somewhat exciting and scary. So I filed my Vacation Leave for the summer holiday April 2019 and it was approved while my boss was having second thoughts. Haha.
My GENERAL RULE is to RESEARCH in advance and study your itinerary like I did. I researched for months on different blogs/vlogs on the things I need to know about KUALA LUMPUR.
"Remember that knowledge is power, and with the information, it will give you confidence and make your stay productive."
Let me summarize what you need to know when you plan to go to Kuala Lumpur soon. DISCLAIMER: I am not an expert, endorser, travel agency or something. I'm just a blogger writing out of passion for FREE. This blog is based on the actual experience I had when I travelled to Kuala Lumpur. Hope to share you some idea how to manage your trip and help you lessen the anxiety.
BASIC QUESTIONS AND GUIDE:
1.) IS VISA REQUIRED IN MALAYSIA?
Since I am a Filipino and Philippines is part of ASEAN. The answer is NO – NO VISA REQUIRED. Some nationalities may be required. Please check with your respective country. Passport is just sufficient for me. Please be aware of possible VISA scams. Learn to know your rights at the country border.
2.) HOW MUCH IS THE AIR FARE?
The airfare roundtrip price is between Php 6,000 – Php 8,000 on a regular promo. Prices could go higher or lower. Suggest to book in advance and during PISO sale.
The month of February, July and November may be ideal for the Standard Regular Promo Fare
I booked mine for P3, 178.00 Roundtrip through Special Promo.
WATCH OUT AND SUBSCRIBE to airlines' e-mail alerts and Skyscanner.They will notify you for promo and lowest airfares possible. Getting a membership with them would give you additional perks through earning points. I got mine with Cebu Pacific it's called GET GO card.
3.) WHERE SHOULD I BOOK MY ACCOMMODATION?
You can book ONLINE by yourself via AirBNB, Traveloka, Hostelworld, or Booking.com are top choices. Create an account with these sites and get discounts when you book. I have an account with Booking.com and I got 10% OFF on every booking.
You have the option to pay with Credit card or pay at the property as payment terms.
In Kuala Lumpur city there's a lot of budget accommodation to choose from. In my experience I stayed in Bukit Bintang area because PUDURAYA Terminal is nearby that offers Airport Bus on a cheap fare plus it's also close to the train station.
This area is popular for tourists because of its approximity to main city attractions. Staying in area like this can save you time, energy and transportation costs which makes it very convenient.
WHERE I STAYED IN BUKIT BINTANG:
I totally recommend the Step Inn Guest House. I only spent around 25 MYR / Php 300+ per night in a 4-female dormitory room with FREE breakfast (coffee, toast & jam). Plus the drinking water is free. You can just fill-up your bottle or tumbler.
Rooms are clean and air-conditioned. Property is a shared-bathroom with hot shower.
If you're okay with hostels to save cost in traveling, just be mindful of your belongings. WARNING: Guests are temporary. You can't fully trust anybody. Getting a safe deposit would be a good idea (with additional charge). You can ask the receptionist at the property.
MY STRATEGY: I keep my phone and wallet with me all the time and during my sleep. I hide them under the pillow. I also distribute my cash in "secret" pockets of my clothes and bag. Keep in mind not to be so flashy whenever you go outside. Kuala Lumpur is a big city. Just be vigilant of your surroundings and use common sense.
4.) WHAT IS THE CURRENCY AND HOW MUCH MONEY SHOULD I BRING AS MY ALLOWANCE?
The currency is Malaysian Ringgit (RM or MYR). I already bought Malaysian Ringgit while I was still in my country before my trip so that I do not need to struggle and find a money changer in KUALA LUMPUR. Although there are lot of Money Changers there, I'm just expecting language barrier and worst rates that they may give to me. I don't plan in using my precious time in looking for better rates in Kuala Lumpur. To be safe I already prepared and brought ready MYR cash with me before coming to Malaysia. The key is to RESEARCH and COMPARE.
The budget for your expenses depends on how many days you intend to stay in KL and what will be you activities. I only brought 650 RM (more or less Php 8,000 for 4 days of stay). This should include my accommodation, food, transportation costs, and other extra expenses. My general rule is to budget Php 2,000 per day whenever I travel.
5.) FOOD AND TRANSPORTATION
Malay, Thai, Indian, Chinese food are common in Kuala Lumpur. A decent meal would cost around 10 RM-20RM so around Php 130.00/2 USD+ or more for one person.
Mode of transportation is massive and pretty convenient in Kuala Lumpur. There are GRAB car, trains, and taxi to get around the city. You can also avail the HOP ON/OFF bus city tour. Walking can definitey save you money.
In my trip I just walk and purchase train ticket on the go.
6.) IS KUALA LUMPUR SAFE?
I can't say it's 100% safe because it's a big city. In big cities you expect incidents of pickpocketing, theft and possible harassment.
I'm glad that nothing of these nightmares had happened to me.
TIP 1: Familiarized with the streets and the area itself through downloading offline Google Map in advance
TIP 2: Don't stay late at night outside hostel. My general rule is I should be indoors before 7:00 PM. It's better to get up early than getting back late to the hostel.
TIP 3 (especially for solo female): Don't get tempted to drink alcohol
Even if you made friends in the hostel, strangers are strangers and you're not sure what they're up to. The criminal minds themselves are up to something Politely decline or just don't order an alcoholic. It may lead you to disaster. Better be safe than sorry.
TIP 4: DON'T BE TOO FLASHY
You know the drill. Be discreet anyway. When checking Google Maps in your phone I suggest that you check it inside an establishment rather than doing outside. Just take a quick photoshoot. Analyze the area.
These are just set of rules I impose to myself. In the end it's still up to your decision.
7.) MAKE SURE TO AVAIL TRAVEL INSURANCE
Travel insurance is very important to have while traveling. Somehow it gives a peace of mind. We may not know when a misfortune could happen. I got my travel insurance for Php 1,000.00 with Malayan Insurance good for two weeks. Insurance protects you from lost items, possible accident, flight delays or cancellations.
8.) TRAVEL LIGHT, TRIPOD COMES HANDY FOR BEAUTIFUL SHOTS (Recommended for solo travelers) AND BE OPEN TO FRIENDSHIPS
Travel light & invest in durable bag – Most hostels don't have elevators so you will have to carry your luggage with you all along. Don't expect a butler unless you stay in a 5-star hotel. Have a small bag where you can put your phone and wallet whenever or wherever. Bring light clothing, own towel and comfy shoes.
Traveling solo makes you want to appreciate the scenery more. Taking photos serves as your souvenir as you engrave these experiences to your memory. You would want to take a selfie with the view. A light tripod is sure your bestie. You don't need to approach other tourists and settle with the blurry photos from them when you can be instagrammer yourself. A good quality smartphone camera is a must. I used iphone 7 plus with these photos.
Making friends is awesome too because you get to learn from other people's experiences. Meeting new people means new learning. You can also share your culture with other nationalities.
9.) LIST DOWN LOCAL DISHES YOU WANT TO TRY
Seriously, don't travel and missing to try out local dishes. Please don't travel just for the "gram" and "photos". Enjoy the culture and appreciate the delicacies in Malaysia. You can actually save money by trying them out because locals normally eat them. Don't go for fancy restaurant or Western Fastfood. Trying a new dish is surely an adventure itself.
10.) LIST DOWN ACTIVITIES TO DO IN KUALA LUMPUR AND ESTIMATE TIME EACH VISIT
Please see below itinerary I did for my Kuala Lumpur trip. Since I mentioned that I stayed in BUKIT BINTANG AREA, and with the use of Offline Google Maps, I was able to pull it off myself without help from anybody. I usually dwell in a place for two hours to give time for picture taking and to chill. So in a day at least I get to see 3-4 attractions.
1.) Visit China Town and Sri Mahamariamman Temple – This should be on your itinerary. I only walked from my hostel in Step Inn Guest House across the street. Lots of food stalls and souvenirs.
The Sri Mahamariamman Temple is the oldest Hindu temple in Kuala Lumpur, Malaysia
2.) Visit Petaling Street Market and Central Market – You can just walk this through from China Town. Lots of shops and food stalls as well. Free entrance.
I bought 10 RM per box (5 different flavors)
3.) Take a sight viewing of Menara KL Tower for free – While walking on my way back to the hostel, I stopped by to check out the tower. You can also go inside and pay an entrance fee all the way up to see 360 degree view of Kuala Lumpur.
4.) Visit Malaysia Tourism Centre (MaTic) to watch free cultural dance show – Sit inside the theatre and watch traditional shows that starts at 3:00 PM for FREE except holidays and Sundays. I love the spectacular performances of the Malaysian dancers and singer.
5.) Visiting KL Gallery – Again, coming here is for FREE. Just kidding. You have to pay 10 RM as entrance fee. You don't need to hire a travel agency when you can this on your own. If you're into culture and history like me, you will enjoy your visit to Kuala Lumpur Gallery. You can learn about the past life of the city through prints, photos and architectural miniature models
The famous I LOVE KL icon
6.) Go to BATU CAVES as early in the morning as possible (avoid crowds) – There is a direct train available from Bukit Bintang to Batu Caves or vice versa. Catch the train at Bank Negara and then get off at Batu Caves Station. Look the signs carefully at the station. Don't hesitate to re-confirm destination with the staff working at the station. The Bank Negara is not an updated train station so you might be confused when you get there. Coming here to Batu Caves is FREE.
7.) Go to KLCC, KLCC park, Petronas Towers (FREE) – This is far by most favorite attraction of all the "twin" towers of Malaysia. You should not miss this one. I went there twice in the evening and at daytime. The towers are surrounded with shopping malls where you can relax in air-conditioned pace.
Got my cold coffee from KLCC and the rest at the park infront of the Petronas Tower
8.) EXPLORE JALAN ALOR MARKET (FREE)- You can find Jalan Alor Market few meters from my hostel in Step Inn. The area is filled with tourists at night and of course the aggressive waiters who do the marketing. The market is vibrant and surrounded with tempting dishes. Some food stalls are pricey. Some can be within your budget. Just walk through and review the prices first.
9.) SULTAN ABDUL SAMAD BUILDING & DATARAN MERDEKA SQUARE –
Another known historical attraction in Kuala Lumpur, Malaysia which is part of their history from being colonized by the British in the past.
Coming here is FREE. This is just near the KL Gallery.
10.) MASJID JAMEK OF KUALA LUMPUR – The Friday Mosque. One of the oldest mosque in Kuala Lumpur, Malaysia. The River of life is an amazing place with or without the fog. This place is very easy to find. You can just exit at Masjid Jamek train station and walk towards the mosque.
It would have been wonderful to see the colorful lights but I wasn't able to come here at night. It's just walking distance from Bukit Bintang area. I find it peaceful to just walk around Masjid Jamek.
WOULD I GO BACK IN KUALA LUMPUR AGAIN?
My answer would be definitely YES! I think there are still plenty of things I need to experience with their food and culture. But in my short vacation I must say that I enjoyed it because of people I met along the way, the attractions and the food per se. My next goal would be visiting other parts of Malaysia in the future.
I hope you learn something out of this blog. I also look forward on your comments and suggestions below. Thank you again for taking time to read my blog about Kuala Lumpur, Malaysia.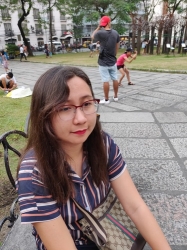 Latest posts by Yang Herrera
(see all)