TRAVEL GUIDE TO MELAKA MALAYSIA OVERNIGHT ITINERARY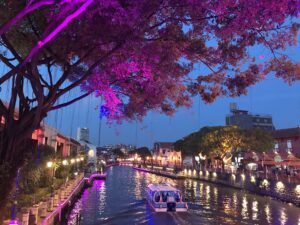 Melaka is a small peaceful town in Malacca State of Malaysia but is worth visiting. Kuala Lumpur may be top of your mind. I also made a separate blog about my experience there. See https://blogsnippets.com/kuala-lumpur-on-a-budget-travel-guide-and-itinerary/ but visiting Melaka was quite memorable for me.
Have your money changed to Malaysian ringgit and camera ready to capture this wonderful place in Malaysia. Since I was on my first time solo travel I brought a tripod with me. I must say Melaka is safe to roam around during my visit. If you're planning to drop by for an overnight stay or for a few days then this blog is perfect for you. 
Travel time is around 3 hours coming from Singapore or KL. You will have to take a bus via Grassland bus costs around SGD 20.00 from Golden Mile Complex Singapore with wifi, AC, USB socket and comfortable leg room. We passed through the Singapore-Malaysia border via the connecting bridge. I used offline downloaded Google maps for navigation. English is not that widely spoken for some people in Malaysia. I arrived in Sayang-Sayang Hostel and checked-in to the private room for RM 43.65 with AC, Wifi, breakfast and with free-use of bicycle that I booked via AirBNB.
Honestly, I love this hostel. Not that fancy but very accessible to the attractions. It's a  value for money, peaceful and clean.
HOSTEL PHOTOS: 
These are the recommended attraction and cheap activities that are just walking distance from the hostel where I stayed or you can just bike around. 
1.) Stadthuys
No entrance fee involved. This top attraction will not even cost you a penny. You can easily find it in the center of Malacca city. Its red exterior design was influenced by the Dutch colonization.
2.) Ride Trishaw at Christ Church
No entrance fee at this site. Optional on the trishaw service as there will be cost on the ride. If you are a tourist, expect that you will be charged more than RM 40.00 for an hour tour. If walking can be exhausting for you then you can hire a trishaw because there are no taxis or shuttle within this area.
I did not ride this because I always prefer to walk. Aside from the fact that you can save money, walking is just healthy.
3.) Eat at Jonker Street
No entrance fee. Apparently, the night market is only open during weekends. But don't worry, I biked here during daylight on a weekday and there are plenty of food stalls, cafes, restaurants and souvenir shops  for you to check out. The vibe can still be fun.
4.) A Famosa Port (Fortress of Malacca)
No entrance fee. The best thing about traveling is to use you instinct so I just follow the flow of tourists in  here. This is another historical site built by Portuguese.
5.) St. Paul's church ruins
No entrance fee. From A Famosa Port you will have to climb the stairs to reach the summit of St. Paul's hill. It's the oldest historic church in Southeast Asia.
6.) Melaka River
Sight seeing at the Melaka river is just colorful at night. There are bars and restaurants at the riverside where you can just chill. It was a nice feeling to be here. There are river cruise if you like. But I prefer to just bike around the riverside.
7.) Cheng Hong Teng Temple
No entrance fee in here. If you are fond of Buddhist temple whenever you travel in Asia, this is for you. Located at the Malacca Chinatown you can easily recognize this one. 
8.) Melaka Sultanate Museum
With Entrance Fee 5 MYR
Paying a small amount of entrance fee was worth it. 
Although their Malay culture isn't far from ours, I still enjoyed browsing the museum. You can find this museum beside the A Famosa Port. The Malacca's Sultanate Palace displays the Royal lifestyle of how the Sultan or the king lived. 
9.) Maritime Museum ( Muzium Samudera ) 
with entrance 5 MYR
This is a replica of a Portuguese ship called Flor de la Mar. 
10.) Biking around Dutch Square

 
11.) St. Francis Church 
The St Francis Xavier church is 16th century Catholic church in Melaka. Here in Melaka you can find diverse Malay culture such as Muslim, Buddhist, and Catholic in religion.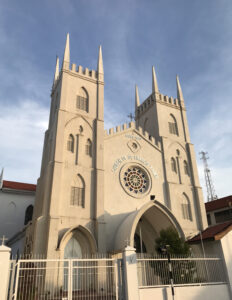 12.) Little India Melaka
I had my breakfast here. You can find Indian food here if you are looking for one. 
13.) China Town Melaka
This is the area where I stayed. You can find textiles, various shops, food in here. What I love about Melaka are the exteriors of their buildings just like I see in Singapore and in Kuala Lumpur. You can really see that they've been restored throughout the ages.
OVERNIGHT GUIDE IN MELAKA 
Note: Budget for food 10 RMB – 20 RMB per meal but it depends on you. RMB/MYR the same thing for Malaysian currency.
Below is my OVERNIGHT Itinerary in Melaka
DAY 1
9:00 AM – Depart from Golden Mile Complex Bus Terminal in Singapore
1:30 PM – Arrival in Melaka
2:00 PM -checked-in at Sayang-Sayang Hostel, rest
3:00 PM – Late Lunch at FAMOSA restaurant, walking distance from the hostel.
Ordered Hainanese chicken, rice balls and Cendol for my dessert
4:00 – 6:00 PM– Tour around attraction (by walking in the town beside the Melaka river) and this is mostly free.
Photo of my snack -Crab balls
7:00 PM – Dinner for Free invitation from the Hostel manager. Very nice people and we talked about a lot of things! They are Chinese-Malaysian. Since I'm a solo female traveler, I decided not to go out the night and just had conversation with these two.
9:00 PM – Sleep well (AC so cold)
DAY 2
7:00 AM – Breakfast at Madras Cafe FREE from the Hostel (Roti bread and Potato Curry with Onde-Onde Pandan Rice Cake and coffee) Nearby hostel.
8:00AM – 11:00AM – Tour around attraction with bicycle. My favorite activity.
Refreshment: coconut ice cream RM12.00
11:30AM – 12:30 NN – Lunch at Serama Boutique Cafe. I recommend this cafe for the ambiance and wonderful interior. Spent more or less 25 RMB for a heavy meal. This cafe sells antique items and other accessories.
What I enjoyed a lot is the freedom to bike around Melaka. The use of bicycle is free if you are a guest in Sayang-Sayang Hostel. If you are not a guest, you will have to pay 55 RMB as rental. The place is so calm and clean. People there are accommodating. You can already enjoy Melaka for only a day tour if you want side trip from KL/Singapore.
1:00PM – Checked-out from hostel going to Kuala Lumpur using Grab Car to Melaka Bus Terminal cost 7 RMB from Sayang-Sayang Hostel in Chinatown.
Please let me know your thoughts when you plan to come to Melaka and I can definitely share to you my experience. Kindly put your comments below. Thank you for viewing my blog! ALL THE BEST!
Disclaimer:
Due to COVID-19 pandemic, the actual prices, schedules and other information stated in the blog may change and vary. Kindly anticipate inflation and other factors that contributed to price difference. Please do your due diligence to verify with official sources. This blog is only based on my personal knowledge and actual experience.
This blog may contain affiliate links and ads. 
Help us improve this post by letting us know in the comment section. 
PHOTO: Biking around Melaka