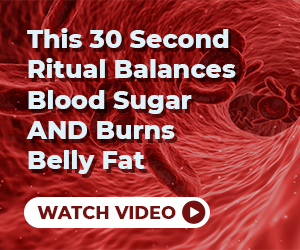 India is the second populated country in the world next to China. India has become a tourist destination because of its rich history, culture and cost of living. In this blog I will share the places you can visit on a budget in Mumbai because these places do not have any entrance fee in my experience. When you come in Mumbai you will notice that their architecture resembles of that in Europe. This is because it used to be under British colony. Delhi is the capital of India but Mumbai is considered as the financial hub that it ranks to be number 1 city of India. Mumbai city is famous for Bollywood (Indian Hollywood), an industry for Indian actors and celebrities.
CURRENCY
As of November 2022 exchange rate, 1 USD is equals to 80 Indian Rupees. Or P1 (Philippine Peso) is equals to 1.40 INR (Indian Rupees). I suggest that you bring USD to India and have it changed in a reputable money changer. Meantime, you can always exchange change a small amount of money at the airport so you can have cash on hand. We had our money changed at the hotel. You can ask your hotel.
AIRFARE TO MUMBAI
From Manila, there are airlines that go to this destination such as Thai Airways, Malaysian airlines, Etihad, Singapore airlines. Local airline such as Cebu Pacific and PAL also go to Mumbai with lay-over in Kuala Lumpur, Malaysia for the connecting flight (transfer to another airline) and it will take you total of 16 hours for a one-way trip. In my actual experience, travel duration is total of 9 hours from Manila to Mumbai via Bangkok Thailand because I was booked with Thai Airways for a shorter waiting time during lay-over at the connecting airport which is in Bangkok.
Unfortunately, there is no direct flight and you will need to have a lay-over in a connecting airport. You could book your flight with 1 or 2 stops. The average airfare roundtrip ticket you can get is around P30,000/USD525 considered as low up to P50,000/USD862 as high (economy class). But if you are lucky to check out for seat sale, you can get as low as P15,000/USD259 roundtrip promo Manila-Mumbai.
Mumbai International Airport
GETTING AROUND (TRANSPORTATION)
Mumbai has multiple ways of transportation to get around depending on your budget and preference. You can hop in a local train, local busses and cabs or taxis with or without air-conditioning. There are also ride-sharing apps and rickshaws. Expect that traffic is very common in the city of Mumbai. You may need assistance with the directions since public transportation in Mumbai is not being shown in English language so it would be a challenge to get around. Staying close to attractions can save you the transportation and the time possibly wasted in traffic.
WHEN TO TRAVEL IN MUMBAI
The recommended time to travel in Mumbai, India is during winter months which is from October-February because it is relaxing to walk around the city, less humidity. Actually it doesn't have snow in Mumbai because like Philippines it is close to the equator. Generally it's sunny or rainy throughout the year. They have monsoon weather because it is situated beside the ocean. Sometimes the temperature could reach as low as 20 degrees celsius during January.
If you travel around March like I did, expect that weather is very humid. So wear comfortable and light clothes only. You must bring shades, umbrella and cap if you go outdoors. Bring your water bottle with you to stay hydrated.
WHERE TO STAY IN MUMBAI
The airport in Mumbai is located 18 kilometers from the city center. I suggest to book your accommodation within Maharashtra area – the city centre.
There are many accommodation within Mumbai city. If you want comfort and have a budget for a private room by yourself or you are a couple, the average Airbnb and basic hotel price is between P1,500-P5,000/night or USD26-USD88/night with air-conditioning, television, bed for 2 persons, private bathroom, some have own kitchen facilities. If you want to save money and you're solo backpacking, cheapest you can get is a dormitory bed (shared-accommodation and bathroom) for P150/night as cheapest up to P400/night in a good location, with air-conditioning. Luxury hotels cost P7,000-P50,000 or USD123-USD877 per night that comes with complementaries.
I was able to stay at the heart of Mumbai City in Trident Nariman Point Hotel which is conveniently close to landmarks and attractions. It's a 5-star hotel with a nice overlooking view of Arabic sea. The rate per night is P9,000 or USD157 that comes with amenities: buffet breakfast, pool, cafe, etc. They always have high-rated service in this hotel.
VISA
Philippines passport holders are required to apply for tourist e-visa to be submitted to the Embassy of India based in Manila where you can stay up to 30 days.
TOP TOURIST ATTRACTIONS IN MUMBAI, INDIA
1.) Gateway of India
Visit the Gateway of India for free. Gateway of India is a prominent landmark in India. The massive structure was built in memory of the first British King who visited India. With an overlooking view of the Arabian sea, it is open 24 hours for the visitors any time of any day. You can enjoy the sea breeze and eat street foods in here. Photographers are available to take a good photo of you. The best time to come here is during sunrise and sunset to capture beautiful moments of the Gateway of India. It can be crowded at times as group of visitors flock around the sightseeing. Distance from the hotel where I stayed: 2 kilometer walk
2.) Chhatrapati Shivaji Terminus
One of the UNESCO Heritage site to visit where "The Slumdog Millionaire" movie scene was captured in this 100+ year old building called Chhatrapati Shivaji Terminus. Designed in gothic European architecture by a British architect and engineer at the same time, it is among the busiest train station in India and one of the iconic landmarks in India. People who love to photograph will be amazed when they light it up in the evening as it looks better at night. There is no entrance fee going inside the grand building. Distance from the hotel where I stayed: 2.4 kilometer walk
3.) Rajabai Clock Tower in Mumbai University
Oldest and top university in India, Mumbai university (previously called University of Bombay) has beautiful scenery of the campus and medieval facade of the infrastructure. Just like the Big Ben in London, the 900,000+ square-meter Mumbai university has a massive clock inside the campus called the Rajabai Clock Tower, one of the world heritage site. It was designed as well by a British architect in 1800s. You can try asking the security officer inside that you will just visit the school campus as a tourist or visitor if you're permitted. However, you're not really allowed to roam around the hallway or go up to the Rajabai clock tower. You can just view the clock tower from the streets instead. Distance from the hotel where I stayed: 1.3 kilometer walk
4.) The Dhobi Ghat Laundry District
The Dhobi Ghat Laundry District is the world's largest traditional outdoor laundry service that has been running for almost 200 years. Dhobi means washermen in Indian Hindi language. Nominated by Guinness Book of World records as the "most people hand washing in one place", they usually serve the largest hotels, hospitals for towels, sheets and linens, and local families for clothes as main customers from manual hand washing, sun and air-drying and ironing with pick-up and return. In Mumbai, they are affordable time-consuming laundromat service that is guaranteed to clean effectively the garments of sorts from their customers. As a tourist, you must visit this attraction for a unique experience and see how locals work together. It is free to come in the Dhobi Ghat and witness how the laborers do the laundry process. In my experience it was not that safe to walk around and take photos because it's in a slum area. The environment could be intimidating for tourists (since this site is quite popular with the travelers). Please always be careful with scams like being approached suddenly for a tour inside the Dhobi Ghat in exchange for money, beggars can be all over in Mumbai and also keeping your valuable things safe at all times because you'll never know what you might encounter visiting the slums. It is highly suggested that you only hire a "legit" tour guide if you want to come here without worries. Distance from the hotel where I stayed: 3.7 kilometer walk
5.) Mani Bhavan – Mahatma Gandhi National Museum
Mani Bhavan used to be the old house of Gandhi, the hero for Indian people. He was the leader against British rule in India and fought for the freedom of Indian people. The museum served as a library and research on how Gandhi lived as a lawyer and struggle as a patriot to fight independence. By visiting this historical place, you will learn the events of Gandhi's journey through his books, memorabilia and belongings. If you are interested with history, spending time in the two-storey museum is worth your visit. There is no entrance fee and donation is appreciated. By the way, you will also see Gandhi's face in every Indian money. Distance from the hotel where I stayed: 4.1 kilometer walk
6.) The Hanging Gardens
It was very hot coming to the Hanging Gardens in the afternoon due to few numbers of shaded trees in the park when I came to visit. A morning or evening walk would have been better. This 130+ year old attractive and historical park located on top of a hill and over a water reservoir (that's why it's called hanging garden) can be your quick relaxation from the chaotic streets of Mumbai where you can hang-out with the nature by yourself, with your families or friends with a panoramic view of the city and Marine drive facing the sea. It is refreshing to see different kinds of flowers and plants, though, popular with locals and tourists for a change of view from busy Mumbai. Coming to the Hanging Garden is free but I suggest to appreciate more the place, don't come on weekends and holidays to avoid the crowd. Distance from the hotel where I stayed: 5 kilometer walk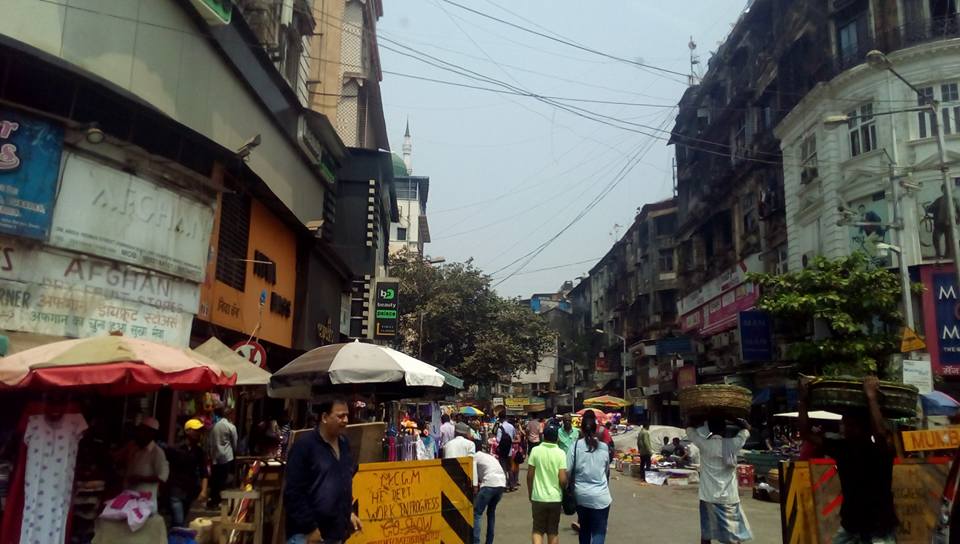 7.) Crawford Market
Crawford market is one of the most popular market attractions in Mumbai since the 1800s. This Victorian-gothic style building was designed by a British architect. You can find anything inside and outside the 72,000 sqf market from wholesale produce fruits and vegetables, spices, poultry and selling of exotic animals, garments and toys for children and adults, jewelries, some are low quality fake bags, shoes, cosmetics and other household goods. It's a huge market where you can do your shopping for variety of items and souvenirs. Indians are known for spices, herbs, curry powder that you can use for cooking. I actually bought spices and curry powder for 200 rupees each pack as souvenir. You can also find local Indian street foods around the Crawford market. But this market is not for everybody especially if you're not used to dirty environment. Be aware that scams can happen in the market. Better walk straight and ignore whoever is trying to approach you. You can come in the market any day except for Tuesday from morning until evening. Distance from the hotel where I stayed: 3.3 kilometer walk
8.) Marine Drive
Marine Drive is a long boulevard stretched up to 3+ kilometers, seaside of South Mumbai. You will pass this if you go to or from the Mumbai airport. This area is lived by mostly wealthy Indian residents who are celebrities, businessmen and high-profile personalities so owning a property in Marine Drive is insanely expensive. In Marine Drive they have public beaches for free, open space and park where local people and tourists can enjoy the street foods and the view of Arabian sea waves during sunset and sunrise just sitting and hanging out for relaxation. The boulevard have wonderful lights so it is recommended visit at night especially when it's cool. However, the sea is not advisable for swimming. But you can chill at the nearby bars and restaurants in Marine Drive. Distance from the hotel where I stayed: Just across the hotel or walk along the boulevard
9.) Taj Mahal Palace
Taj Mahal Palace just facing the Gateway of India sightseeing is the first luxury 5-star hotel built in 1903. This historic landmark costs P29,000+ or more than 500 USD per night accommodation. As an iconic hotel, you can expect that it has the amazing luxury service and high-end amenities you can experience when you book your stay in the Taj Mahal Palace. You can enjoy the panoramic view of the Arabian sea while you indulge yourself with various culinary the hotel offers. The royal facade of the building makes you feel like a very important guest when you enter inside the lavish lifestyle in British colonial architecture, which is Taj Mahal Palace. Distance from the hotel where I stayed: 1.9 kilometer walk
If you want to go to the other Taj Mahal attraction in India which is the Taj Mahal Mausoleum – a UNESCO heritage site built in 1600s and one of the 7 Wonders of the World, you must book a domestic flight from Mumbai or from New Delhi to Agra to reach the Taj Mahal destination.
10.) Jai Jawan Statue
Before heading to Colaba Causaway Market, you will pass by the Jai Jawan Statue (just across Cafe Royal) at the roundabout after visiting the Taj Mahal Palace and Gateway of India.
11.) Colaba Causeway Market
One of the best street markets to see in Mumbai is the Colaba Causeway Market where you can shop for souvenirs like clothing, shoes, bags, jewelries, handicrafts and antique items. Before I left Mumbai this was the place where I bought my souvenir and it was really crowded. Be careful with pick-pocket incidents and shop with caution. Always negotiate with sellers up to 50% of the initial offer if you can as they tend to over charge tourists. This busy market is filled with restaurants, offices, theatre and other commercial establishments. It is also surrounded with cafes and bars where you can hang-out for a break. Distance from the hotel where I stayed: 2.4 kilometer walk
After shopping, just 1 kilometer walk within the Colaba area from Colaba Causeway Market, I was able to have dinner at Cafe Royal where the former US President Bill Clinton had visited before. The cafe was established in year 1919 and it's one of Mumbai's oldest restaurants. They served all-day food specializing in sizzlers. The price per meal starts at 235 Indian rupees/3 USD in big servings. Also a good place to chill in the evening at the bar upstairs.
Personally, I always go and eat at the Mcdonald's in every country I visit. The reason for this is that each country has different set of menu based on the preferences of their citizens. If you are not into spicy food, you will have to adjust your taste buds when you come to India. Almost every food is literally spicy and have the aroma of herbs. Just like the regular Mcdonald's fast food, it can be really crowded and messy when you decide to eat at any branch. The MAC burgers and dips are normally spicy. You can buy ice cream after.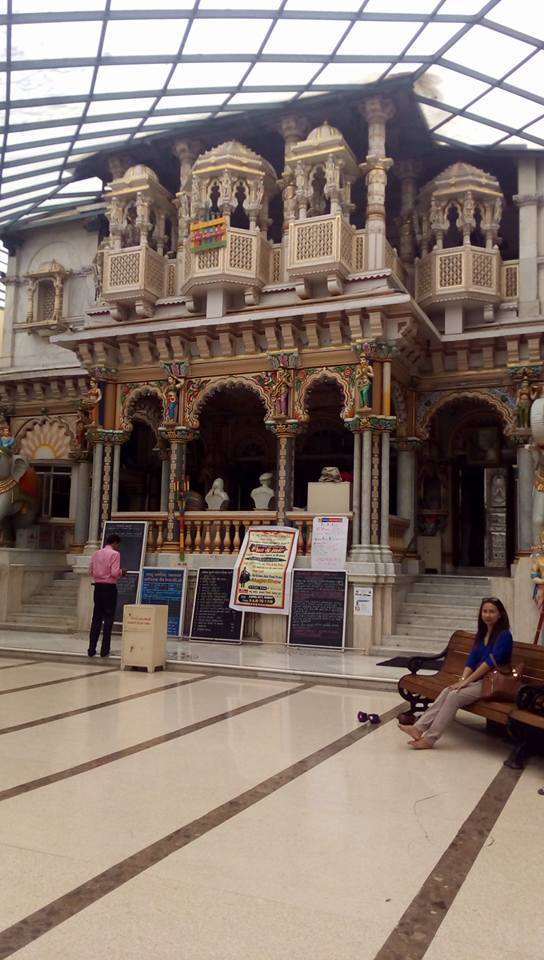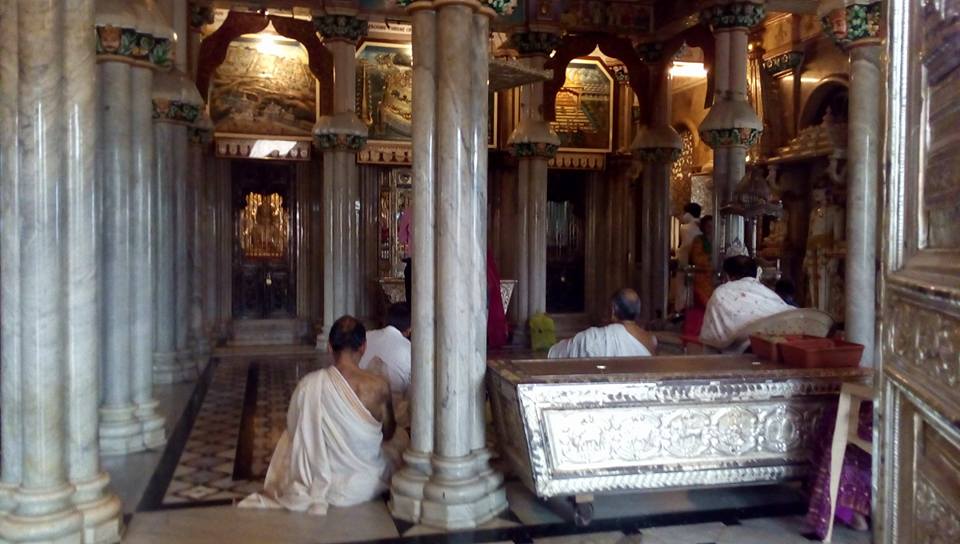 12.) Babu Amichand Panalal Jain Temple
One of the most popular Jain temples to visit in Mumbai – the Babu Amichand Panalal Jain Temple. Jain is among the world's oldest religion originated from India for more than 2,000 years ago with 5 million followers at the present. This was the first time I ever heard of Jain and visited a temple built in 1904 of their religion. It is open for the public. You must leave your shoes by the entrance and wear conservative attire as a respect. I did not pay anything coming in this beautiful small temple, meaning it's free to appreciate the architecture and ancient carving art. Also, you may be surprised of the strong scent of incense and flowers being offered in the temple.
Perfect souvenir ideas you can buy:
In my 4 days of stay in Mumbai, I had visited a Jain temple for the first time and also seen a Catholic church. Mumbai is a diverse city in a sense that there are also Muslims as second religion next to Hindu, as well as Sikh and Buddhists. The overall architecture and history are beautiful attractions. The city is also rich in culture and thriving to be a progressive city in India. Food and shopping are a must activity to do in Mumbai.
Shawl / Scarf
There are many Saree stores in Mumbai. Saree is a women's garment in India as part of their tradition. If you are planning to buy a souvenir, buying shawl or scarf can be a great choice. You can buy them in different design, color and textures. India is known for their clothing worldwide. I bought a hand-made shawl for only 347 rupees/4 USD at the Queens Emporium store just 2 kilometer walk from the hotel. The Queens Emporium specializes in sarees and suits for important occasion since 1960s. In addition, this type of souvenir is very useful for any travel during cold or hot weather.
Spices (Masala as condiment powder)
You can bring home this unique souvenir of different kinds of Indian spices such as cumin, turmeric, cinnamon etc. blended to become masala (mixture of spices). It will be used for flavorful and fragrant cooking. I also bought it as a souvenir for cooking curry back in my home country.
Tea (Chai Tea or Masala Chai Tea)
Another great souvenir from India is their original chai tea. Favorite daily drink and popular with Indian locals, chai tea is part of their oldest history. You can buy it as per collection, bottle, per box or per sachet. The traditional Indian tea is an ideal gift for yourself, family and friends to enjoy when you return home with add-on health benefits. In fact, it became one of my favorite authentic drinks I have ever tasted. It smells so good and it is usually made with milk, fresh ginger, cinnamon and black tea.
Disclaimer:
Due to COVID-19 pandemic, the actual prices, schedules and other information stated in the blog may change and vary. Kindly anticipate inflation and other factors that contributed to price difference. Please do your due diligence to verify with official sources. This blog may contain affiliate links and ads.
Help us improve this post by letting us know in the comment section.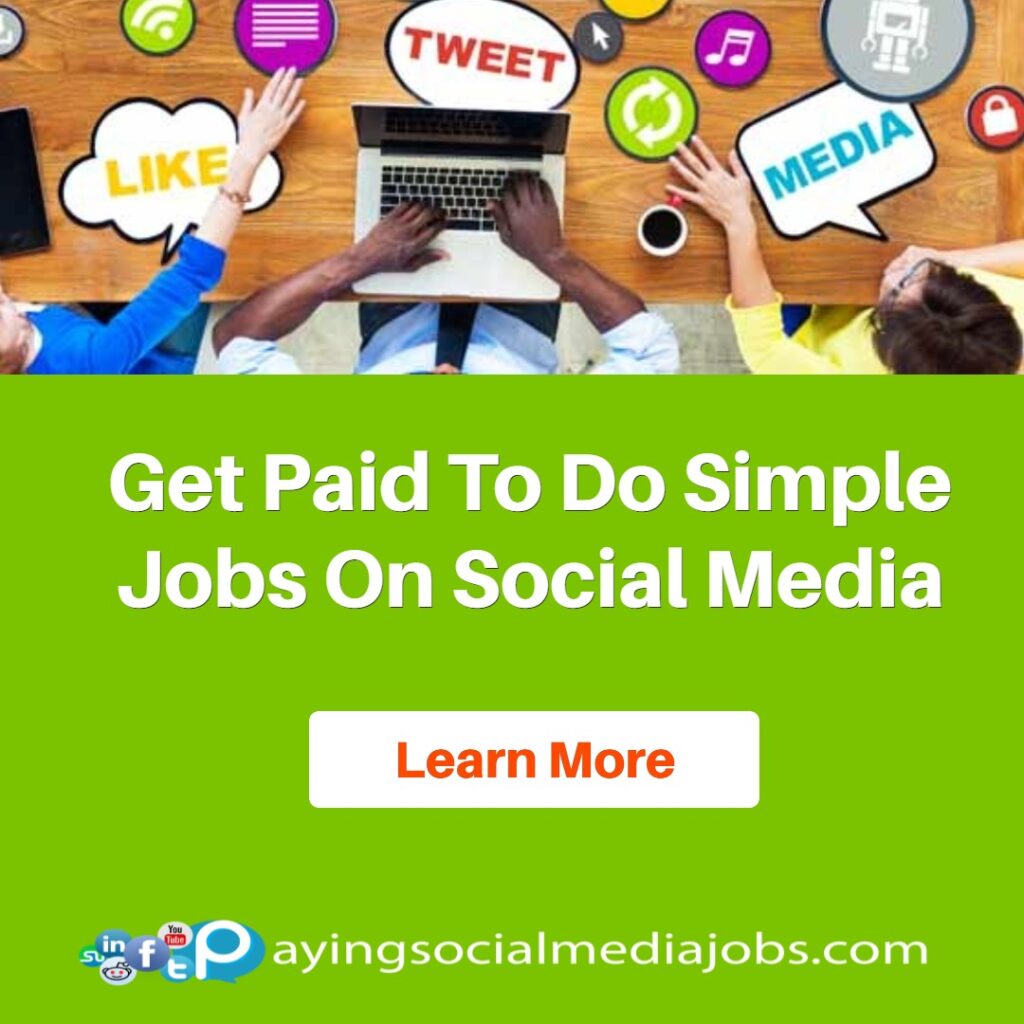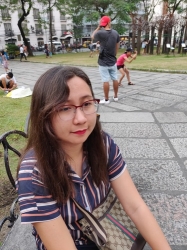 Latest posts by R.Somaredetnom
(see all)