The town of Baliuag is 40 kms away from Metro Manila located in Bulacan Province part of Central Luzon. The town of Baliuag (sometimes spelled as Baliwag) is now a developing municipality to be considered as city soon. In fact, there is SM Baliuag mall in this humble town. Bulacan is known for history as the land of heroes because majority of Philippine heroes originated from this province. If you happen to come here, I will share to you my experience as someone who moved here from the city. I first visited Baliuag Bulacan in 2016. Not really a touristy place but I am writing this blog in case you will visit Baliuag at least you have an idea on what to expect. The town is just simple and kind of laid back.
HOW TO COMMUTE TO BALIUAG, BULACAN:
BALIWAG TRANSIT / GOLDEN BEE TRANSPORT is servicing regularly to Bulacan and Nueva Ecija routes. Their bus terminals are located in Cubao and Caloocan. Baliwag Transit Terminal in Cubao, Quezon City operates from 5:00 AM-9:00 PM daily; The Baliwag Transit Terminal in 2nd Avenue, Caloocan operates from 5:00AM-7:00 PM daily; Meanwhile, there are busses under different company called FIVE STAR with terminals in Cubao and Pasay also pass by Baliuag highway. They have a Facebook page that you can follow for updated schedules. If you're not able to catch schedule with BALIWAG TRANSIT, you might want to take chances with FIVE STAR since they operate 24/7 to farther destinations in the North Luzon.
Getting to the bus terminal (coming from Metro Manila) via Public Transportation:
Going to Cubao Terminal – The best way to go is take LRT2 or MRT3 line and alight in Araneta-Cubao station. If you take the MRT3 (you probably came from Pasay/Makati/Mandaluyong), you will alight at Farmer's Plaza in Araneta-Cubao, take EXIT going to EDSA-Aurora Boulevard footbridge. Note: It's going to be a challenge during hot season Alternatively, if you don't like taking the footbridge stairs outside, you can enter Farmer's Plaza connected Gateway Mall then head to the Uniqlo store in Gateway mall where you can find ATM machines at the Exit of LRT-2 line. Go down the escalator and exit from Mcdonalds. Outside you will have to cross the pedestrian, head towards the EDSA direction (see the heavy flow of vehicles) and walk 500 meters to reach Baliwag Transit Terminal in Cubao. This is the way I personally prefer.
If you take LRT-2 line (you probably came from Manila/Divisoria/University Belt/Greenhills/New Manila), you can just take the Exit at Gateway mall down where you will see the same Mcdonalds along Aurora Boulevard, then outside you will have to cross the pedestrian, head towards the EDSA direction (see the heavy flow of vehicles) and walk 500 meters to reach Baliwag Transit Terminal in Cubao. You can find the BALIWAG TRANSIT Terminal in color green gate. Travel time from Cubao to Baliuag is 2-3 hours/one-way depending on the traffic. *Route update 2023: The busses from Cubao terminal take the route in Mindanao Avenue to the Expressway (NLEX).
Going to Caloocan Terminal- Take LRT-1 train line and get off at R. Papa station then ride any jeepney downstairs and tell driver to drop you off in Baliwag Transit Terminal located at 2nd avenue in Gracepark where you can see 7/11 convenience store then across the pedestrian you'll reach the entrance gate (color green) of Baliwag terminal beside the Dunkin Donuts. Travel time is only 1-2 hours from Gracepark, 2nd Avenue, Caloocan to Baliuag, Bulacan. The busses take the R10 road (a new road) which makes it faster prior entering at the toll gates of NLEX (Expressway). *Updated 2023
Going to Pasay Terminal – You will not find Baliwag Transit terminal in Pasay. However, in my experience, I was able to get on a Five Star bus in Pasay that can take me to Baliuag highway when I arrived at NAIA airport. Travel time is approximately 5 hours passing through EDSA. You can take chances if you are coming from NAIA airport and South areas of Luzon like Cavite or Batangas BUT the frequency and intervals of busses are not reliable unlike the two main terminals above. *I haven't updated this before COVID-19
The most recommended terminal is Caloocan terminal. It is less crowded, faster and more convenient to reach by jeep (not much walking required compare to Cubao terminal). Passed the security and temperature scan check while showing you COVID-19 vaccination card. **As of 2023, the terminals have become easy
If you travel late at night or on holidays and there are no busses available, there used to be a ride-sharing shuttle van just outside the Cubao terminal. As I remember they charge the same fare as the regular bus to cater those people who were not able to make it and wanted to go to "Baliuag loob" destination instead of taking the other bus company that passes by to Baliuag highway at late midnight.
The reason that they prefer to take the ride-sharing van is to save on time. The other bus company, for example, Five Star bus has to fill-in more passengers before it departs. You may encounter possible delay, though, it is a lot safer to just get on it since you can always hire a tricycle from Baliuag highway going to your final destination. Perhaps it is better postpone your travel the next morning and travel safely within the normal operating hours.
Please be guided that this kind of transportation (ride-sharing) which is called "KOLUROM" could be dangerous for you so I don't really recommend traveling beyond the terminal's operating hours. However, I am not sure if these shuttle vans are still operating this pandemic. So make sure to follow their Facebook page for updates.
BUS FARE:
Old bus fare in 2019 is Php 81.00 per person/one-way from Cubao/Caloocan to Baliuag. It's a typical airconditioned bus with television (no toilet/USB port).
COVID-19 YEAR 2022 UPDATE: The regular fare per adult from Caloocan to Baliuag becomes P97.00 per one way and possible to increase due to rising fuel cost. Bus fare as of November 2022, it is now P106.00 PER ADULT and P85.00 PER STUDENT/PWD/SENIOR *As of August 2023, still the same, P106/Adult regular rate and P85/Discounted rate on Student/Persons with disability (PWD)/Senior Citizens Just make sure to present your ID to avail the discounted rate.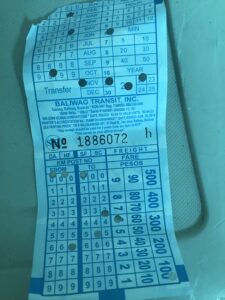 Usually there are vendors selling various snacks and drinks at the terminal. Online booking of the bus seats is not available. You can just walk-in at the terminal, get your seat in the bus then wait for the conductor to give you the tickets collect the fares. Cash is only accepted as payment.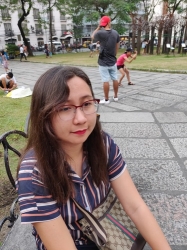 Latest posts by R.Somaredetnom
(see all)